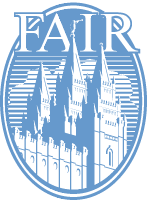 Here are my notes from the 2009 FAIR Conference which occurred August 6 and 7, 2009. I typed them live as the conference proceeded they likely contain mistakes, omissions and especially spelling errors.

Actual transcripts and recordings and videos are forthcoming from FAIR; many are already available here.


Thursday, August 6, 2009

Wade Miller: Science and the Book of Mormon

Vickey Taylor: The Sariah Dilemma- Finding Increased Faith When Our Children Misplace Their Own.

John Gee: The Larger Issue.

Ugo Perego: Haplogroup X in Light of Recent Book of Mormon Claims

McKay White: The Kirtland Safety Society: The Myths, the Facts, and the Prophet's Good Name.

Ron Barney: The Reliability of Mormon History Produced by the LDS Church.

Robert White: On Being An Apologist: Imperatives, Predicaments, Perils, and Blessings.


Friday, August 7, 2009

John Lynch: "Uh, oh" to "Ah hah!" 20/20 Foresight for a Faithful Future in Defending the Church.

Brant Gardner: Joseph the Seer, or Why Joseph Translated with a Rock in His Hat.

Ron Hellings: Joseph Smith and Modern Cosmology.

Matthew Brown: Brigham Young's Teachings on Adam.

Greg Smith: Everything You Always Wanted to Know About Plural Marriage (But Were Afraid To Ask).

Richard Sherlock: Mormonism in the Public Square.

Daniel C. Peterson: The Temple as a Place of Ascent to God.