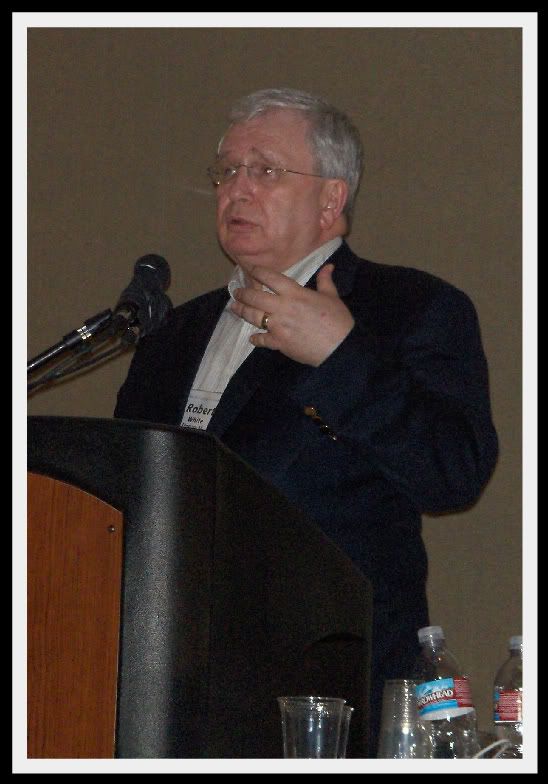 As my public ministry came to an end and I wondered what I would do with my time, I was very fortunate to be introduced to FAIR. And to encounter faithful LDS who are working without formal calling, but with a divine mandate, to defend the truth of the restored gospel. It has been a miracle to watch, and to feel the presence of the Spirit when people have spoken of things which can save souls. There is no place I would rather have been.

I apologize I am not wearning a tie, but I have waited 40 years to be able to speak to Saints without wearing one, and this country of yours is hot! [Applause]

[Talked a little about Canada/US relations, a few funny stories.]

A few thoiughts of mine serve only as seeds to greater thoughts of your own as you search further. We have been educated and touched by people who know what they have to say and that what they say is right. We can be certain, by what is apparent to the bretheren, that still, on the earth, among all nations, sects, parties and denominations, thousands and thousands are only kept from the truth because they do not know where to find it, and we know there is another bunch doing their utmost to stop them from finding it.

My family was part of the 1st Presbytyrian Church. That's where I heard of God. We were Scottish Presbyterians. I thank God for the Reverend J. MacBeth Miller, Who showed me that God is real, and that He loves me.

I asked him when the wings will grow on our backs and how will we get our clothes on. He said "Aye, Laddie, that's a mystery of God!"

I am aware as a LDS who does apologetics thatt here are very fine people who are not of our faith, and so I am not at all ashamed about being a LDS apologist. But how in the world did we ever get into this, what were we thinking? it is sometimes maligned even by members of the Church. Some want to know why we are even apologizing. Others think we should be forever apologizing to them. We know our conspiracy to take over the world is probably something to apologize. Well, we ought to apologize when we make mistakes. [Shows picture of Bill Maher flipping the bird. For reals.]

I believe we are mandated by heaven to be apologists. I believe there are 3 references in revelations that seem to address something only FAIR can do, and does.

1. "Confound thine enemies. Inasmuch as ye are faithful their shame shall be made manifest. Wherefore let them bring their strong reasons, no weapon formed against thee shall prosper..." (See D&C 71:7-11.)

Revelation from when JS went from Kirtland to Hiram about 60kms. (Or 35 miles since you don;t know the distances in the mother country). Many revelations and translation of the Bible was done in John Johnson home. They were told to do some apologetic work. Ezra Booth, joined church because of a miracle, and then quit because there weren't enough miracles, has the distinction of making the first anti-Mormon blog. He published in the Ohio Star. He was soon joined by Simonds Ryder, though I can't quite remember how to spell it. By the way there's a spelling error on his tombstone, I think that was inspired!) The church doesn't engage institutionally in confounding enemies but we can do it. We don't seek debates and fights, we provide answers. Let them bring their strong reasons. Their new book on the Spalding manuscript, (God help us...) George Smith's thing about polygamy, DNA that was supposed to be the end of the Church, Hofmann's salamander letter. I was bishop of student ward when it happened, some poor man and his wife said they were leaving the church at the time, and one of my counselors asked what we would do. I said it is very simple. If the letter is genuine the church isn;t true. He said that is bold. I said, well, the church is true, so we can consider the letter a fake.

The true defense is in ensuring people receive a testimony.

We are the line in the sand. We don't promulgate or declare doctrine, we are not officially assigned by the Church, we do not seek fights, but we are Latter-day Saints, true to the truth that our parents have cherished and true to the truth that for martyrs have perished. We put up a barrier that says this far, no further. And so in Elder Maxwell's memorable statement, we protect those fragile souls whose faith may falter.


2. "And as all have not faith, seek ye diligently and teach one another words of wisdom; yea, seek ye out of the best books words of wisdom, seek learning even by study and also by faith." (D&C 88:118-119)

Second Mandate, after dedication of Kirtland Temple. This verse shows what we are learning for. "As all have not faith." These people have not brought their knowledge to show off, but to help those who have not faith, who can get to the point where they can have faith, because to some it is given to know and to some it is given to believe on their words.

I hope that you feel the Holy Spirit bear witness to you that you have been divinely mandated to do what you do and may God bless you in it.

3. "Men should be anxiously engaged in a good cause, and do many things of their own free will and bring to pass much righteousness. For the power is in them, wherein they are agents unto themselves. And inasmuch as men do good, they shall in no wise lose their reward. (D&C 58:27-28).

Third mandate, and all of us know what it is. Joseph in August of 1831 determined where Zion should be. The placement of a cornerstone of a temple there. People questioning him about everything so he went to the Lord and he received a revelation. No apologies for that.

As I made the transition from General Authority to try to pitch in however I can, I saw very quickly that the adversary knows he has to destroy you or lose the war, and that you stand between him and many of his objectives. That won't go to your heads because you wouldnb't be here if it did. But apologetics is extremely dangerous work. We can't do it just like CS Lewis did, and we love Lewis, "We quote him often, and even occasionally in context." Here'ssomething he said:

"I have found that nothing is more dangerous to one's own faith than the work of an apologist. No doctrine of that Faith seems to me so spectral, so unreal as one that I have just successfully defended in a public debate. For a moment, you see, it has seemed to rest on oneself: as a result, when you go away from that debate, it seems no stronger than that weak pillar. That is why we apologists take our lives in our hands and can be saved only by falling back continually from the web of our own arguments, as from our intellectual counters, into the Reality-- from Christian apologetics into Christ Himself. That also is why we need one another's continual help--oremus pro invincem." -CSL (The Joyful Christian: 127 Readings by C. S. Lewis, Simon & Schuster, pp. 184-185.)

We must not let apologestics become our faith, we must not let it stop us. We are first and foremost Latter-day Saints.

"For behold, God has said, a man being evil cannot do that which is good; for if he offereth a gift, or prayeth unto God, except he shall do it with real intent, it profiteth him nothing."

The Lord wants us to test the fruit, taste and see. As good as it looks, if you taste it, you'll know. Be so very careful with where you go to learn. Some groups like to sit around at certain places and ridicule. How can they sit around and laugh about a talk about boys and factories and sit around and laugh, and theyve never had to counsel the boys and try to save souls. Instead we look for a club to sit around and complain about things all the time.

We must be courageous enough to enunciate our doubts and resolve them, as Brother Barney says.

I saw a blog talking about a mistake in one of the manuals. A dear young brother, who knows a lot, whipped out his phone and confirmed there was a mistake in the manual, so he texted his friend, and he texted another person, etc. And I worriede that all they took home was a mistake in the teachers manual. There's more to it, of course, referring to the Marsh story (maybe it makes him look better than it should!) but is that all they took home?

Sometimes the intentions are good but the results arenot the best. So I wonder about this inoculation concept. How are we going to know what viruses we should inoculate against, and for whom? An inoculation that may be good for the first chap in line may not be good for the next fellow.

We need to appreciate the fact that our people begin to think that every expectation they have will be met. To think that we deserve to know the answers to all questions or that we do know them is dangerous ground. So I wonder, do the Latter-day Saints need inoculating? Or do they need transfusions?

The announcement has been made that Gospel Principles will be the next manual and I know there have been complaints. But we need to understand that what is happening is not inoculate, but to transfuse the basics back into the Saints.

When Saints see JS translated using a hat they wonder what the deal is. For one person it becomes a doubt, for another it becomes a question. What makes the difference? As thinking Laytter-day Saints they will want to settle the question, but it will not deprive them of their testimony of the truth.

Now I know some of you may be worried that I have fallen into the trap of the warm fuzzies. You know on the message boards we try to get people to join the church by warm fuzzies. Nothing could be further from the truth, because one must first hear the word from one who is truly sent and then act upon it. That leads to faith in Jesus Christ, not to an explanation to how the Book of Mormon was dictated, or why section 5 has two verses with the wording changed, or why the rod of nature became the rod of Aaron, or all the rest of it. It leads them to faith in the Lord Jesus Christ. And experience shows if they have that faith they can get out of a boat in the middle of a storm and walk on water. Now of course there is some sinking, why didst thou doubt, but emeber the Lord reached out and grabbed his hand and brought him back.

FAIR stands as an example that we know these things and that we know there are answers or that it is ok./ And that is how FAIR is saving souls. Hopefully it leads to rependtance, to increased faith, to baptism, then the Holy Ghost, which most often settles gently, but does sometimes come with such a communitive joy that it feels as though our hearts are bruning, and sometimes it is a voice so stil and small.

Well, that's the process that appears to be the Lord's plan. And as we have confidence in the Church making available the things we heard of from Brother Barney, making research available to all, keep in mind the 3 mandates. It is another testimony to me that this organization has come together as by the hand of the Lord. It is spoken of with unreserved praise by the bretheren.

Well,I guess we do have warm fuzzy feelings. But it is so supernal that if one hasn;t experienced it, one can;t explain it.

Well, these are just some things to think about.

"The gift of the Holy Ghost comes after one repents and becomes worthy. The Holy Ghost bears witness of the truth and impresses upon the soul the reality of God and Christ so deeply that no earthly power or authority can separate him from that knowledge.e" -Pres. Faust, a little paraphrased, Ensign April 1996 p. 4.

Learn line upon line, and express gratitude for the men and women of FAIR who have learned and taught because all of us have not faith, and may we maintain a firm determination to help each other. Now I sit next to you as a brother in sacrament meeting. But when the end of my public ministry came the Lord did not erase from my mind that which had changed from a testimony to a witness. My beloved friends, I know that the Lord Jesus Christ lives and is our Savior. And that Joseph was his prohet and that Thomas S. Monson is. I know that. I bear witness of it in the name of the God of Israel, Amen.


Q: What do you think of academic works such as Brother Bushman's book?

A: What I think of it is altogether irrelevant. What is important is faith in the Lord, an abiding testimony.