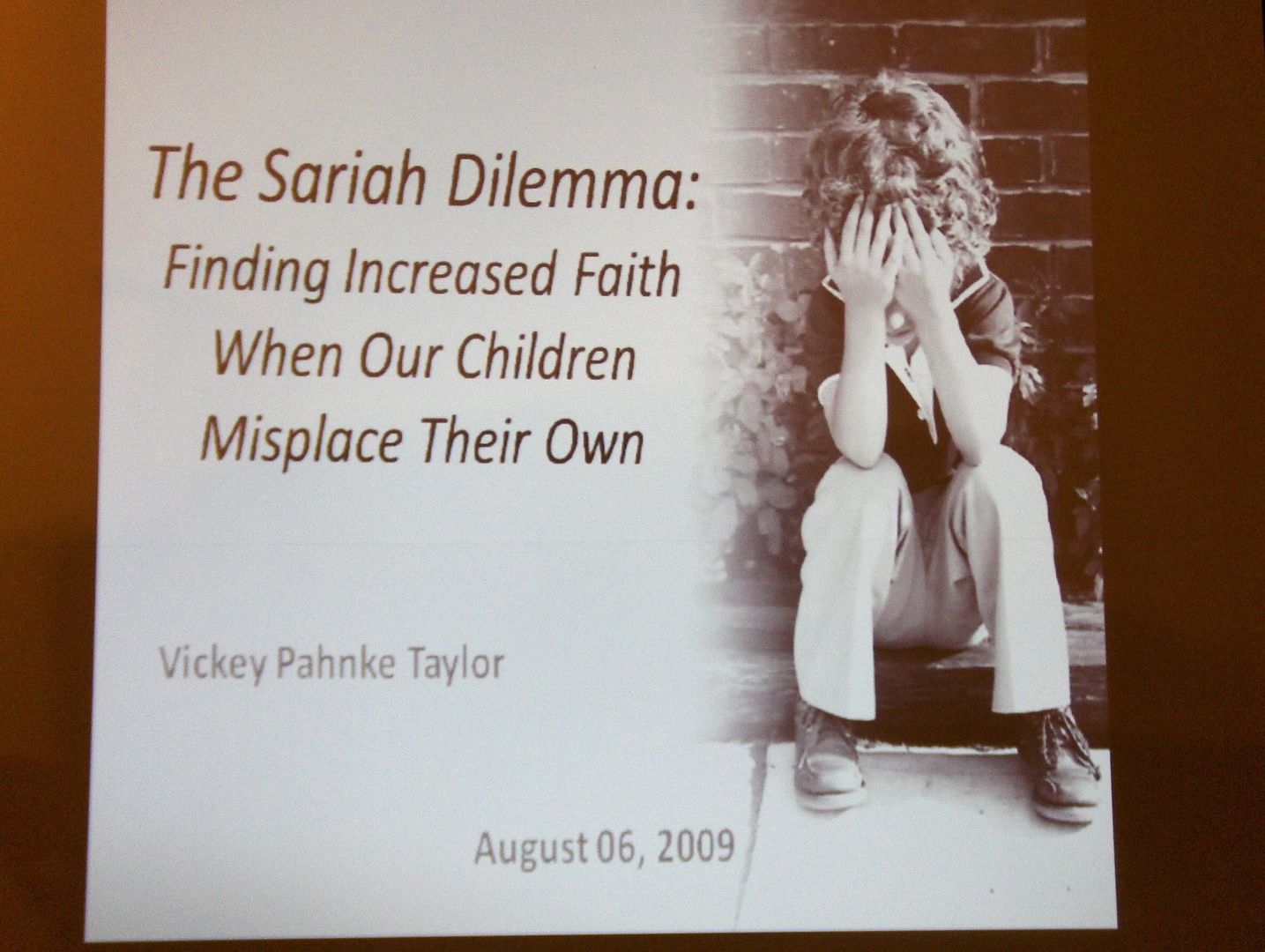 The following are my personal notes of the presentations. They are incomplete and likely contain mistakes, omissions and especially spelling errors.
The full transcript for this address is now available at fairlds.org.
Taylor is a singer/songwriter, and professional speaker. She has a master's degree in interpersonal communications and has spoken at EFY, written for Meridian Magazine, etc. Hers was a more homiletic address.
Wants to share some feelings about us as children of God and also parents of children of God.
1 Nephi 1:1 outlines Nephi's youth as receiving an education, affliction, a family, etc. As a mother, I have a unique take on my family history and I would probably give a different history than my kids. Likewise I imagine Sariah might have written a different sort of record.
For any of us who have had our hearts broken by children who have decided to leave the Church, Lehi's family is a prototype.
How have I failed? Common reactions: Guilt, anger, depression, hurt, or impression that teachings have been in vain. They can hamper our own progression.
Our children's decisions might teach us more about God and Christ and give us a better understanding. We must allow Christ to assist us.
Turn to the Savior. His shoulders are strong enough to hold us up.She told a story of a young girl who was lost at a store, and the clerk asked if her mom would recognize her voice. He had her talk on the store intercom, and she began: "I'd like to bear my testimony...I know this church is true..."
Stop comparing ourselves and begin changing ourselves to find more peace.
We should maintain certain habits and actions in our lives which can deepen our relationship with God while we encounter this issue.
Nine pieces of advice:
1. To keep sanity during the storm
Don't get caught up in the middle of the emotional storm. Find ways to keep self more serene and minimize murmmuring. Leave judgment to God, our judgment is often spotty. Be kind to self. Take time to read, exercise, do things you enjoy to remember you are in charge of your life. Refuse to be drawn into daily drama that might come from an openly defiant family member. At first, these actions might seem uncomfortable or robotic, but over time we receive assurance and peace. Desperation diminishes when we work proactively at replacing negatives with positives.
2. Keep focus on Spiritual Growth and Understanding.
Easier said than done. Come to terms with the fact that you are not in charge, that you do not control others but that you control your own actions and reactions. 2 Ne. 2:27, all are free to choose. 2 Ne. 2:28 says to lok to the great Mediator and choose eternal life. Blessings of covenant with God will help us.
3. Feed the Good
Battle between good and evil. Nourish the good. Walk by faith, not by sight (2 Cor. 5:7; 2 Ne. 25:25).
4. Keep a Sense of Humor
Proverbs 17:22, taking humorous approach. It can be very challenging to find humor though in some cases. Quoted
Elder Wirthlin
"No matter our desperation, no matter our grief, Sunday will come."
5. Keep Our Job Seperate From the Lord
Don't try to carry the load of children's sins on your own shoulders. Keep your own covenant with God. It is not your job to rescue the wayward child by yourself, it is your job to follow Christ. God understands our conditions here, etc. We can't save ourselves and we can't save them, but God can.
6. Keep eyes on the Plan of Redemption
We may realize even more how much we need Christ's atonement. "Our Heavenly Father is more liberal in his views and boundless in his blessings than we are willing to believe or receive..." Joseph Smith. Moses 1:39, Lord's work and glory is to redeem souls, he will continue to do his work.
Don't lose patience. "I leave my blessing upon you. May there be…a sense of security and peace and love among your children, precious children every one of them, even those who may have strayed. I hope you don't lose patience with them; I hope you go on praying for them, and I don't hesitate to promise that if you do, the Lord will touch their hearts and bring them back to you with love and respect and appreciation."- President Hinckley.
What do you do when you become so angry that you don't feel love at all? Tell them you love them. Work hard to love them. Relationship with God will help extend that love. If they recognize the desire to bring the gospel to them is secondary to your love for them it will help a lot. Don't try to force. It won't help to lower standard to become a friend, but still showing love is the goal. Even if you have to love them from a distance. Further, God loves them.
9. Keep on Believing.
A testimony allows us to lean on the Savior. We can gain hope from the scriptures. Consider the story of Alma the Younger, a good example of a remarkable redemption of a wayward child.
"Let the father and mother, who are members of this Church and Kingdom, take a righteous course, and strive with all their might never to do a wrong, but to do good all their lives; if they have one child or one hundred children, if they conduct themselves towards them as they should, binding them to the Lord by their faith and prayers, I care not where those children go, they are bound up to their parents by an everlasting tie, and no power of earth or hell can separate them from their parents in eternity; they will return again to the fountain from whence they sprang" ([She attributes to JFeS but it seems to be BY, as quoted by JFeS, see:] quoted in Joseph Fielding Smith, Doctrines of Salvation, comp. Bruce R. McConkie, 3 vols. [1954–56], 2:90–91).
Endure it well. Redefine the word peace? Parable of peace: Once a king who offered prize to artist who paints best picture of peace. One was a calm lake, etc. Second one had mtns and lake, but above them was an angry sky with wind, choppy lake, etc. King looked carefully behind the waterfall he saw a mother bird tending babies behind the waterfall. When asked why he chose that one he said peace doesn't need to be in a place with no storms, it means to be in the midst of these things and still have peace in heart. D&C 61:36, be of good cheer, I am in your midst, etc. He is the author of our peace.
For a lot of the other quotes employed see
http://tinyurl.com/2o8u5u
I've wondered how Sariah dealth with her troubles. We may face similar dillemas in parenting and grandparenting. There is only one way to find peace and that is to focus on Christ.

Q: Can you name 3 valid reasons for a child not to go to church?
A: I can give you a lot that the child thinks is valid. We have 8 children and our percentage is not stellar. What we do is recognize that a child will come up with any excuse.
I always made them go at first, until a certain time. When they are little of course, but you can't make them go, and I can't think of a reason for a child not to go, but it can really start some contention. During the week I would find a way to talk non-chalantly about things I heard at Church. But valid reasons? Illness of course, etc.
Q: [unsure]
A: I'd rather have an honorable man who doesn't go to church than one who goes to church but is not honorable. If we focus on Christ it gives us lisence to lighten up, we don;t focus on what other people are thinking, we aren't cramming the program down their throat, we are more apt to follow truth and light.