A few thoughts about doubt
Part 1 of 2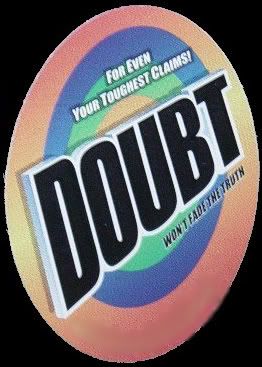 Because Mormons place heavy emphasis on the power of testimony based on personal metaphysical experiences with God coupled with the testimony of others, statements directly challenging beliefs can feel threatening and personal. In a culture stressing the importance of knowing, doubt may easily be seen as an aberration; perhaps something to avoid, fear, or reprimand.1 From another perspective doubt is the arbiter of an open mind, freedom, and wisdom.

Terryl Givens, a professor of literature and religion at the University of Richmond, described a tension within the Church; a paradox of simultaneous searching and certainty:

Mormons are admonished to "get their own testimonies" and not live by borrowed light. But immersion in a culture so saturated in the rhetoric of certainty inevitably produces the pressure to express, if not to actually possess, personal conviction; and it produces a socially reinforced confidence about those convictions.
Perhaps this explains in part the proclivity of disaffected Mormons to so frequently react with bitterness and feelings of betrayal. It explains why people can leave the Church but cannot leave it alone.

2
Perhaps it also explains why it can be tempting for members to vilify those who actively or aggressively manifest antagonism or even simply doubt toward the Church. Such a response may be a defense mechanism some faithful people employ in response to encountering an intimidating apostate who proclaims they lost faith despite praying, reading scriptures, and living a good LDS life ("If someone can lose their testimony while doing everything right...."). Labeling a person as a doubter, or manifesting fear or antagonism toward such a person can actually reinforce and feed doubt.
3
In LDS devotional history there are some prototypes for doubt, most notably in Joseph Smith's uncertainty in searching for forgiveness and the true religion of God or his later prayer in Liberty Jail asking where God had gone. While such stories set an example, hindsight bias reveals their happy ending while the uncertainty in experiencing current personal doubt can be a tremendous obstacle. Should doubt, then, be avoided?
Can doubt be considered a sin? Can doubt be considered righteous?
FOOTNOTES
[1]
In the new "
Guide to the Scriptures
" on LDS.org there is no entry for doubt, nor is there one in the
Bible Dictionary
or
Encyclopedia of Mormonism
.
[2]
Terryl Givens,
People of Paradox: A History of Mormon Culture
, Oxford University Press, p. 275
[3]
For more, see Richard Bushman's "
Introduction
" to the 2008 Bushman Seminar.