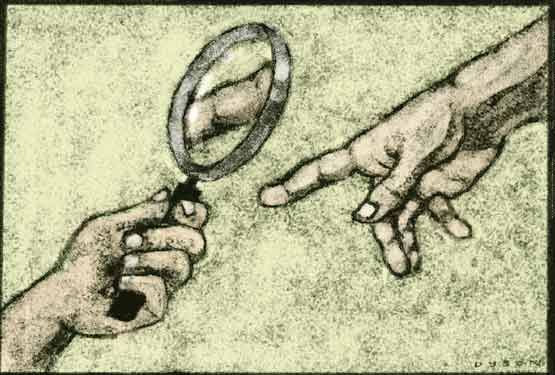 In an effort to proselyte strictly by contrast, avoiding any similarity of faith, some Christians may claim that other religions (denominational or otherwise) disobey the first great commandment by loving a "false" God with all their heart, and as a result merit eternal damnation. A "different Jesus" standard is constructed on mostly ontological foundations.
But there can be little doubt about the devotional direction of the second great commandment. We all have the same neighbor. Almost all religions that worship a deity have some form of the second commandment in common; to do unto our neighbors as we would want our neighbors to do unto us--an idealistic standard, to be sure.
According to biblical verse, obedience to the second commandment necessarily reflects back on the first ("inasmuch as ye have done it unto one of these the least of these my brethren, ye have done it unto me"), thus it may not matter
what
one's
current traditions or ontological theories are concerning God, because all can show reverence and love to God by showing love to others regardless of academics. In arguing over the specifics on God's ultimate nature, one easily break both of the two great commandments
Somewhere, sometime, in this life or the next these traditions and differences in belief can be straightened out as the Lord's sheep will hear his voice, follow Him, creating one fold and one Shepherd. All must be humble enough to hear that voice when called in order to respond.
I don't feel threatened by the possibility of similarity and agreement with religious faiths that are different from my own. I welcome any similarities I can find and believe any productive dialog should emphasized them for the sake of creating an environment where the Spirit can teach all and bring all closer to a unity of the faith- being
one
, just as Jesus is one with the Father.
[Juxtaposition of verses/concepts]
And thou shalt love the Lord thy God with all thy heart, and with all thy soul, and with all thy mind, and with all thy strength: this is the first commandment. And the second is like, namely this, Thou shalt love thy neighbour as thyself. There is none other commandment greater than these.
And the King shall answer and say unto them, Verily I say unto you, Inasmuch as ye have done it unto one of the least of these my brethren, ye have done it unto me.