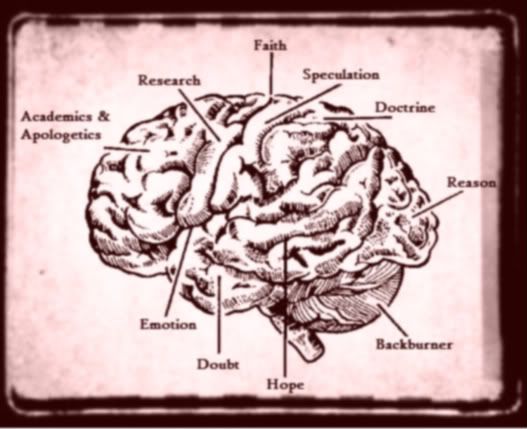 Consecrate Your Brain, Introduction
A seven-part series with Greg Smith.
See also parts
1
,
2, 3, 4, 5, 6, and 7.
One of the aspects of FAIR conferences I like most is the willingness of some presenters to talk about the implications of their own research in more intimate terms. In a more strict academic setting it can be inappropriate to delve into personal details and feelings. At FAIR, presenters have been known to discuss testimony, struggles, and research methods quite openly.
1
Along those lines, a highlight of the 2009 FAIR conference was Greg Smith's discussion of plural marriage.
2
The final section of Smith's presentation included his personal story of study and faith. "
I did not set out to be the person people ask about plural marriage
," he said. Nevertheless, he has become somewhat of an expert on the practice, though it wasn't always so.
Smith grew up knowing abut the practice but when he began a more in-depth study he encountered Richard Van Wagoner's
Mormon Polygamy: A History
. After only a few pages the "womanizing claims" caused him to pause because he hadn't "done the legwork" needed to responsibly engage the information. He felt Van Wagoner had dumped some information in his lap he wasn't fully prepared for.
Latter-day Saints who struggle with difficult historical information regarding the Church may be interested in his reaction and approach. Whereas some are content to rely on the research of others, Smith knew in order to fully understand the issue that troubled him he must dive in to the historical record himself. At the outset he said he knew three things:
1. I knew that I didn't know enough to answer the questions that this was going to bring up.


2. I knew that finding the answers, if there were any, was going to take a lot of time and a lot of work.


3. I knew that I might not be intellectually or spiritually up to the challenge of finding those answers or recognizing the answers or being satisfied with the answers. And I knew that answers might not exist.
So, while he believed the best way to handle the issue was by a full investigation, he also knew he couldn't put his spiritual life "on hold" in the meantime. Smith decided to pray about the problem, expecting to have a long and repeated wrestle with God: "
[M]y spiritual life did not have four or five years, which is how long I've been doing this now, to sit in the church archives
," Smith explained. He needed to know up front if a full investigation was right. Instead of a repeated wrestle on
that
question he came away knowing he could investigate plural marriage completely and come away with faith in God intact.
Smith has since spent several years studying the subject and in retrospect he explained:
And for me, ultimately, the question (I see now) had nothing to do with plural marriage at all. Plural marriage was only the catalyst for a much more fundamental question and that question was, "Do I trust Father?" And I see now, by the grace of God, that my instinctive reaction was to do that, to express my trust and, amazingly, to mean it. I did not realize it at the time, but what I effectively chose to do, if I can put it crudely, is I chose to "consecrate my brain."


I value my brain—we all do—nobody likes to be thought foolish or naive or ill-informed or duped or cognitively dissonant or any of the other labels people can put upon us. I'm a doctor, I'm regarded as a reasonably smart person, I love science, I love evidence, I'm a skeptic, I'm a rationalist. I say all this about myself—I am all those things, that's part of how I conceive of myself.


I could have gone before God and I could have demanded answers, I could've told him I want the evidence and I want it now, I want closure. I could've issued him ultimatums. I could've told him that if this didn't work out, I was quitting. But, I chose instead, to consecrate my brain. I was willing to sacrifice my self-image, my years of learning, my intellectual effort and my social respectability on the internet (which I'm sure is crashing as I speak!) because I trusted Father.
I wanted to know more about the implications of "consecrating one's brain," so I contacted Smith and he accepted the invitation to participate in this short blog series.
In the next few posts we will talk about academics, research, apologetics, faith, cognitive dissonance, whitewashing, and other related issues. If you have a question along these lines, leave a comment to this post and we'll see about bringing it up. My purpose isn't to talk about plural marriage, but about how difficult issues
in general
are dealt with in a faithful and an academic context.
Smith received a degree in medical school after also studying physiology and English at the University of Alberta. He completed his medical residency in Montréal, Québec before becoming an "old-style country doctor" in rural Alberta with interests in internal medicine and psychiatry. Due to his research interest in plural marriage he has spoken to the Miller-Eccles study group and published articles in the
FARMS Review
.
3
He also volunteers for FAIR and has written many FAIRwiki pieces.
FOOTNOTES
[1]
Some academically-minded members of the Church seem more reluctant to share expressions of faith and desire to "stick to the facts" so to speak. On the other hand, some LDS scholars have discussed more personal aspects of their research, including Richard Bushman (
On the Road With Joseph Smith: An Author's Diary
), Ronald W. Walker ("
Joseph Smith, The Palmyra Seer
"), Eugene England ("
Enduring
"), Leonard Arrington (
Adventures of a Church Historian
), Davis Bitton ("
I Don't Have a Testimony of the History of the Church
"), and Richard D. Poll (
History & Faith: Reflections of a Mormon Historian
).
[2]
See Greg Smith, "Everything You Always Wanted to Know About Plural Marriage (but were afraid to ask)," Presented at the eleventh annual FAIR Conference, 7 August 2009. Smith's quotes in this post are from the transcript of Smith's presentation
here
.
[3]
See Gregory L. Smith, "'
Days of Miracle and Wonder': The Faith of Sam Harris and the End of Religion
,"
FARMS Review
20:1 and "
George D. Smith's Nauvoo Polygamy
,"
FARMS Review
20:2.