Likening With Care, part 6
Today's post continues Gardner's top five myths or misconceptions regarding the Book of Mormon (see also myths five and four).Gardner: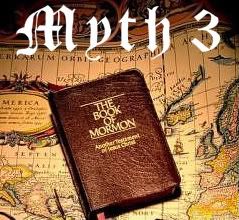 "The third myth is that we have the book that Mormon envisioned."
We are missing the first 116 pages of the manuscript, which covered all of the Book of Lehi and the first chapter of Mosiah. In that section, we would have had Mormon's editing of those books and they wouldn't be written in the same way as we see 1 Nephi.
1
In his study of the Book of Mormon, Gardner notes that the first 116 pages, dictated by Joseph Smith to Martin Harris, Emma Smith, and possibly Reuben Hale in Harmony, Pennsylvania between April and June 14, 1828, are lost. In the first edition of the Book of Mormon Joseph Smith said the missing pages contained an account "from the Book of Lehi, which was an account abridged from the plates of Lehi, by the hand of Mormon." Lehi's record is mentioned in the Book of Mormon in 1 Nephi 1:17 and it is believed that Nephi's chapters 1-10 follow the same time period.
2
Based on this loss, Gardner posits that the Book of Mormon would have been given through Joseph Smith as a complete book from beginning to end as deliberately organized and designed by Mormon (and completed by his son, Moroni). In a 2008 FAIR conference address Gardner laid out his case for the original structure of the Book of Mormon, and how it was designed specifically to "convince the Jew and the Gentile that Jesus is the [Messiah], the Eternal God" (Book of Mormon, Title Page).
3
Gardner believes the book still fulfills its purposes in this regard, but finds insight in Mormon's overall approach.
Gardner:
I have seen a couple of fanciful attempts to "reveal" the lost 116 pages. One begins with material obviously modeled on 1 Nephi, but "expanded." That is simply wrong. Nephi crafted his document, he did not edit or abridge it. Mormon wrote very differently from Nephi.
One such attempt is included in Christopher Nemelka's "The Sealed Portion: Final Testament of Christ." In it he claims to have translated the sealed portion, as well as the lost 116 pages of the book of Lehi. Reviews have shown Nemelka's work to be inconsistent with the Book of Mormon, and have typically argued that it was a forgery written by Nemelka himself.
4
FOOTNOTES
[1]
Brant Gardner, personal email in my possession, Sept. 1, 2008.
[2]
See William J. Critchlow III, "
Manuscript, Lost 116 pages
,"
Encyclopedia of Mormonism
, Vol. 2; D&C
3
;
10
;
HC
1:56.
[3]
Gardner, "
Mormon's Editorial Method and Meta-Message
," FAIR Conference, August 2008.See also a rough summary of the paper in my notes from the FAIR conference
here
.
[4]
A free download of Nemelka's sealed portion can be found
here
. As an aside, Nemelka incorporated quotes from the modern LDS temple endowment in his sealed portion. For a review see the FAIRwiki article "
Christopher Marc Nemelka
." See also the article on Nemelka by Ben Fulton, "
True Believer
,"
City Weekly
, Dec. 27, 2001.