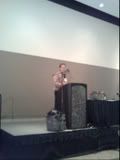 "If you don't like [the book], I'll take full blame. If you do like it, it's not my creation completely."

Among reasons for the loss of faith are:
1) Someone loses faith because of death or calamity. "How could God do this?"
2) Some are exposed to info which call into question the truth claims of the Church.

Mike mainly approaches the second point in his book.

On the term "Syndrome."
Some have supposed that Mike is indicating that those who doubt are somehow diseased or ill." Mike says it can refer to the result of extenuating circumstances, such as the "Stolkholm syndrome." Also, the 1979 movie "China syndrome."

Syndrome:

1.

Pathology,

Psychiatry

. a group of symptoms that together are characteristic of a specific disorder, disease, or the like.
| | |
| --- | --- |
| 2. | a group of related or coincident things, events, actions, etc. |
| | |
| --- | --- |
| 3. | the pattern of symptoms that characterize or indicate a particular social condition. |
4.
a predictable, characteristic pattern of behavior, action, etc., that tends to occur under certain circumstances:

the retirement syndrome of endless golf and bridge games; the feast-or-famine syndrome of big business.
Shaken Faith syndrome is not a disease, it is the result of the actions of another trying to hurt or damage. Doubt isn't a sin. About 95% of Americans believe in God. Nearly half seriously doubt at times.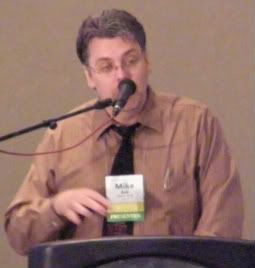 "Our people are given the largest possible latitude for their convictions, and if a man rejects a message that I may give to him but is still moral and believes in the main principles of the gospel and desires to continue in his membership in the church, he is permitted to remain and he is not unchurched. It is only those who on rejecting a revelation rebel against the church and withdraw from the church at their own volition."
(Joseph F. Smith, Senate Report of Smoot Hearing Testimony, vol. 1, pgs. 97-98)
Those who are more dogmatic or fundamentalist about doctrine seem more prone to shaken faith. Fundamentalist, as far as believing in a very rigid, uncompromising approach to their belief system. "Close-minded," in other words.
Mike said that all of us maintain some form of fundamentalism regarding various views.
Cognitive Dissonance:
Thought disharmony, when beliefs are not congruent. Mike used speeding as an example; when one is breaking the law by speeding, they might make excuses to account for their behavior. They aren't lawless knaves, they are merely in a hurry, or they are responsible enough to drive quickly.
The level of discomfort we feel is related to the strength of the particular convictions called into question. Each person assigns a particular amount of weight to each belief based on experience, education, etc.
Hunger, thirst, a psychological dry state where one needs something to fill the void, and soon.
Managing Cognitive Dissonance:
1-Reject competing cognition (call it false.)
2-Reject it as unimportant to the issue.
3-Accept it and reject the former views.
4-Accommodate current views by allowing or synthesizing the new information.
A common approach by LDS is the first and second:
1a
Reject anti-Mormon info as propaganda. Brush it aside as false, resolving the problem. (Reject as false usually without investigating the material or issues.)
2a
Reject the critical information in light of our spiritual testimony. (Unimportant, put on shelf.) Some have better things to do than worry about the weight of the gold plates.
Both of these approaches tend to avoid full examination of the issue. People tend to stick with their original ideas despite unsettling information. Why? Like in a relationship, people realize that current or future benefits outweigh the current problems or doubts. In the end, some LDS may rely on popular folklore, or out-dated opinions on LDS matters.
A different approach includes the third and fourth:
3a
Change cognitions or beliefs. Decide that they were wrong. (Some who leave the Church, like people in point one or two, disregard studies that challenge their beliefs. It is ironic that some who leave for intellectual reasons are often unfamiliar with the current scholarship)
4a
Accommodate the new information or find an answer for it. (Paradigm shift.)
Most people accept beliefs without the utmost thorough examination; there is not time to fully examine all things. The danger occurs when people do not think outside the box of conventional LDS traditions. Mike compares this to building a house of straw built on a sandy foundation of fundamentalist views. (Such as believing that all prophets from the OT to today's prophets all had the same gospel as we do today. [I think there are some BoM verses that lend into this thinking, in addition to the concept of "restoration," forgetting that things that have never been revealed will come out in this last time.]
Black and white thinking leads to problems. Some ideas such as:
-Mormons have truth, others do not.
-Pay tithing=blessings.
-If you doubt, you must have sinned.
-All children of good parents go on missions.
We should use our brains as well as our spirits when we study the gospel.
Common misconceptions leading to apostasy:
*Unrealistic expectations of prophets.
(Prophets are not infallible.)People have an assumption that true prophets will be able to predict things, never be unsure, or speak incorrectly. Prophets are not suddenly divine. They are subject to their own bias, mistakes, misconceptions, and world-views in addition to all their strengths. Joseph Smith talked about
not
having all knowledge all at once. Many of his visions or revelations grew out of his circumstances which led him to ask God. Even then, answers are not always given.
*Confusing tradition with doctrine.
An example of this is the view of Book of Mormon geography. Early on, church leaders easily saw the Book of Mormon geography as encompassing N. and S. America. Reading the internal text of the BoM, however, seems to fly in the face of this understanding. Many LDS scholars now see a limited geography theory. How do we reconcile that past prophets were wrong? (Remember that some LDS members were not convinced of a Hemispheric theory.) Remember that in the Bible the description of the earth is based on current understanding. Because humans are creatures of habit we tend to stick to our assumptions, especially culturally.
*Imposing our views on others.
People tend to see things differently, and assume that others will do so likewise. Language can cause problems this way. Every written document provides immediate participation on the part of the reader. When the reader and writer come from a different social system, non-understanding often results when the reader recontextualizes the words. When the Bible talks about the "whole earth," it generally referred to the land where people live; the known land. (Ash here is referring to thoughts found in
Social-Science Commentary on the Synoptic Gospels
, by Bruce J. Malina, Richard L. Rohrbaugh.)
*Unrealistic expectations of science and scholarship
People without a full understanding of the nature of historiography, DNA, archeology, etc. tend to project a false comfort in the fields, while findings by LDS scholars are said to be colored by "bias." Thomas Kuhn talked about the nature of shifting world-views in science, religion, etc. Data is theory laden.
Inoculation
Inoculation can make people immune from surprising information. [I would add, it is actually a way to encourage critical thought among members of the Church, rather than presenting a "lighter version" of the "hard things." More on this later.] This has a small danger of negatively affecting some. In the end, Mike believes that, because knowledge is power, members will be better off if they understand the harder issues, or at least understand how to confront them.
For more on the book, a free sample chapter, and information on purchasing, see
ShakenFaithSyndrome.com.