The film Nobody Knows: The Untold Story of Black Mormons is not a Church proselyting piece or a Church bashing piece, according to Darius Gray (G). It intends to allow people to tell their own stories. The film runs 72 minutes. Today at the conference, he and Margaret Young (Y) are showing excerpts of and then discussing the film.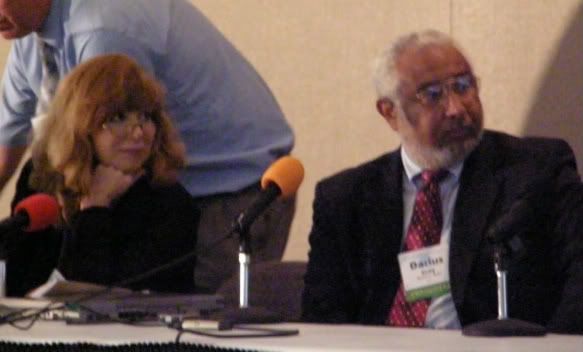 "I'm not stupid, I'm not a fool, and I'm not an Uncle Tom. This gospel is for all people." Darius Gray.

After a few preliminary thoughts in interview, the film gives a brief synopsis of the plan of salvation, mentioning the restoration which brought knowledge of the premortal life. Church doctrine taught that men would be punished for individual sins, and that the fall was an important part of the plan. One member suggests that he chose to come to earth in a black body, rather than being forced into it, or deserving it based on poor faith. Joseph Smith was revered by followers, though he insisted he was imperfect, and the subsequent prophets were seen similarly. Prophets, however, are not perfect, thus their decisions, etc. are not always perfect.

Elijah Abel
Missionary work is mentioned, including the ordination of Elijah Abel and his missionary work. Bringhurst calls Abel tragic and courageous. Abel joined in the 1830s and was ordained an elder then seventy by Joseph Smith. Abel also received a patriarchal blessing. Y describes patriarchal blessings, and mentioned Abel's blessing telling him he was ordained an elder. He was an undertaker in Nauvoo. He later left Nauvoo.

Jane Manning James
Met missionaries as a young girl, then convinced her family to go to Nauvoo, they went by foot and were welcomed by Joseph and Emma, where they stayed for a time. Jane stayed on as a servant. Joseph was murdered. James went to live with Brigham Young, and then went west. Eliza Partridge's journal is an important source on James. She tells of James bringing her a gift of flour. One interviewee notes that JAmes' charity was the real gift.

Skipping ahead in the film, G tells of when he began meeting with the missionaries in 1964. His mother did not desire the elders to come. Years before, elders had visited his mother. One of them asked her if she was Negro or had Negro blood. At that point the missionaries made a hasty exit. Thus, his mother saw racism in the Church. He eventually decided to be baptized. In his baptismal interview he asked (again) about the issue of ordination to the priesthood. He asked about the Lamanites and Nephites (Lamanites with darker skin, not in favor with God.) He wanted to know if that related to him. An elder responded that the implication is that G won't be able to hold the priesthood. G thought he had been so foolish, and that he should have heeded the warning of his mother. These representatives of Christ were telling him he couldn't be equal because of his race. "There was no way in hell I was going to baptized into the LDS Church" he said, though the elders didn't know. That night he prayed on the issue and received a personal revelation that the Church was where he needed to be because it was the true restored gospel.

In the 60s there were only 3 or 4 hundred black LDS in the world. Spencer W. Kimball, then-president of the Church, had been wrestling with the question. Praying in the Temple alone he received a revelation from God. He said then he knew something was happening "that was extremely important to many children of God."

The film moves into a section called Revelation. June 8, 1978 was the day when the restriction was lifted. Pres. Kimball's gravelly soft voice described the revelation coming. "Lord, we want only what is right. We're not making any plans to be spectacularly moving. We want only the thing that thou dost want." Finally, he said, the impression came making it "very clear to us," to make the gospel universal to all worthy people.

G said the political pressure aspect was absent in 1978; this was a monumental announcement to the Church. "It took a heavy weight off of the Church," one member said. After hearing the rumor, Darius checked on TV. He didn't see it there, so he tried calling Pres. Kimball who wasn't there, but his secretary told Darius it was true.

Skipping ahead, the next excerpts are of various members talking about their current feelings of being a black Latter-day Saint. A section called "Truth and Reconciliation" talks about the after-effects of the revelation in Temple work, missionary work, etc. Various members then talk about some things they would still like to see from the Church. One man complimented the Church on its growth and etc. through various black cultures, but perhaps would like to hear something more specific regarding an apology of some kind for the ban. A quote from Pres. Hinckley explains next that no one should ever have racist thoughts. He said, in effect, "how could any man assume that he is worthy of the priesthood and that another man with different color is not eligible based on race.?"

"Let Us Break Bread Together" was the next section of the film which had thoughts from black members on how they met the missionaries, joined the Church, etc. These personal reminiscences are powerful, and I won't paraphrase them now but prefer to give people the chance to hear them in the film, if and when that becomes more available.

END OF FILM

Y explains how the concept of the curse of Cain can be traced as far back as the 15th century in Christian thought. The Church basically has no firm explanation on the date of the policy being instituted. 1847 was the last known ordination of a black, Y believes. Y believes it came about in 1852 during discussion of statehood for Utah. In the 1870s after Young died they discussed the policy again. Z. Coltrin claimed that JS taught that blacks were not to be ordained. Joseph F. Smith disagreed, and found evidence that Elijah Abel was ordained.

Questions and Answers:

Q- Why has the prophet not given a specific talk making clear the reasons for the ban, or apologizing to black members.

Both panelists said they aren't really convinced they want an official or explicit reason given. They would both like more explicit denunciations of former myths regarding the premortal life and valiance, etc. Y said she did like Pres. Hinckley's talk on racism.

Why the ban?
Y said the documentary explores this more.

Will the film be posted online?
Y said they do not want the film on Youtube; it will; hopefully be commercially released by the end of the year.

Q- Regarding racism in the Book of Mormon
Y talks about in the end of the Book of Mormon when the people focus more on what divides them, "ites." This is an incorrect way of seeing brothers and sisters in the world.

Darius said one problem regarding thoughts on the Book of Mormon being racist comes from a small view, or non-conceptual view of the Book of Mormon, which is too simplistic. He was actually more bothered by certain things in the D&C, or the Pearl of Great Price. He prayed to God about it and basically was told "you haven't done your part by reading the book yet." He warned against cherry-picking.

The DVD is in the works, they are currently getting special features material put together, including a young white-looking man who subsequently discovered he technically had African blood and was thus restricted from the priesthood. It is absurdly low-budget, Y said, but they are hoping that perhaps before Christmas it will be ready. It will be announced on the FAIR site.