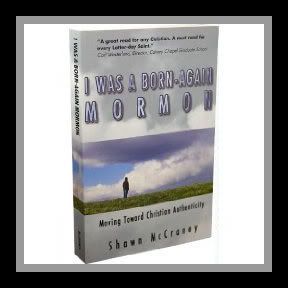 One of the nice things about having a blog is the ability it gives to quickly correct discovered mistakes. About a year and a half ago I wrote a book review of Mormon-turned-Evangelical Shawn McCraney's
I Was a Born-Again Mormon.
It was published in the most recent issue of the
FARMS Review
. I wanted to fairly represent Shawn's own experiences in the review. Unfortunately, the opening paragraph contains an error I'd like to clarify:
In this self-published book, Shawn McCraney describes his alienation from the Church of Jesus Christ of Latter-day Saints before becoming a born-again Christian. He tells of a period of deep anguish as a Latter-day Saint in the 1980s, and though he continued attending his church meetings, he felt increasingly separated from God. By 1997 he was having difficulty keeping a steady job and sustaining his marriage because of an addiction to prescription drugs and alcohol. He felt he had "lost all connection to the God [he] once longed to know."1
During a recent interview on John Dehlin's "
Mormon Stories"
podcast, Shawn clarified that he was not
addicted
to drugs and alcohol, but that he
abused
them:
Someone wrote a critique against me at FARMS on my book and said I was addicted to pain killers and vodka. I was not. In fact, I say in the book, I wrote, I used them to dull the pain of my doubt and not believing in the church, being married in the temple to a wife who did, my children saying 'I wanna go to the temple' you know, and that conflict and tension was too much for me. And so I began to secretly abuse, when I could find times alone, vodka, or hydrocodone, or whatever, never addicted.2
Later in the review I use the term Shawn prefers:
In light of how McCraney discusses his own drug and alcohol abuse, he seems to believe that some Saints inevitably attribute apostasy to sin...While there is scriptural warrant that various sins can lead to apostasy (e.g., Alma 24:30; Doctrine and Covenants 93:38–39), there is also abundant scriptural precedence indicating that, if such were invariably the case, there would be no faith in God—for example, "All we like sheep have gone astray" (Isaiah 53:6) and "All have sinned, and come short of the glory of God" (Romans 3:23).3
I apologize to Shawn for the error. I added a corrective footnote to the
draft on my blog.
Here is the relevant selection from Shawn's book regarding alcohol and drugs:
[p. 87] When I was thirty-four, in a desperate effort to ease the pain of my cankered soul and the crumbling of one trusted golden calf after another, I turned to secretly abusing alcohol and prescription drugs. I never took them as part of my daily life but instead saved them for times of deep reflection as a way to numb and self-medicate my pounding pain. Cautious and deceptive, so as to not expose Mary or daughters to my failing ways, I would look for spans of alone time where I could inebriate myself [p. 88] without being caught. Sometimes this meant drinking half a bottle of vodka right before going to bed, or loading up on Hydrocodone before a long drive. Instead of helping me, these deceptive acts exacerbated my impulses toward self-destructive behavior. The depths to which I had inwardly sunk cannot fully be described by words...

[p. 89] Desperate and angry, and quickly losing all consideration for everyone around me, I was a spiritually, emotionally, and socially broken man. I'd given away more good jobs than I can count, broke the heart of my trusted friend and confidant Mary, and turned from most of my life-long friends. I got to the point where I was willing to accept anything that could change my sinful, unhappy condition to one of peace. Anything, except what had failed me in the past. I suppose that is why I ultimately looked to substances.4
Finally, my confusion about this issue also stems from episodes of McCraney's television program, "Heart of the Matter." Shawn not infrequently discusses his view of God's grace compared to his own sinful nature. In one episode, for instance, he depicts himself as an "alcoholic" and a "prescription drug addict." Here is an exact transcript in which he refers to himself in the third person:
I want to say something now that's going to bother some of you greatly. It will certainly be misunderstood but it's not gonna prevent me saying it. I have never, ever, met a man more evil than myself. Shawn McCraney, the man sitting right in front of you, right now, here, on the stage now, is, not was, is, a selfish alcoholic, he is a prescription drug addict, he is a rabid adulterer, a sexual deviant, and a violent man. If you need to see me in my flesh as anything else, you've got your wires crossed. And if you want me to reassure you of anything otherwise, it's not gonna happen. Right now, in my body, in my flesh and bone, live all things vile. They came with my physical entrance into this world and the experiences I had growing up as a child. Take me out and get my old man going and the right circumstances and I assure you I am capable of almost every evil act under the sun. I have nothing, nothing in myself at all that will justify my natural person before God. Nothing but my faith, and trust, and love in Him. And yet, in this state, my fallen nature while I was in sin, He came and saved me. I am a sinner saved by grace. Saved through no good thing in me and through this salvation I was made a new creature in Christ spiritually, in Jesus, in Him. Anything that comes out of me that is positive or loving or beneficial or good originates from Him and in Him alone. And for this I praise Him.5
It seems to me Shawn is employing a rhetorical strategy to emphasize his fallen nature and his being saved through the grace of Jesus Christ. It echoes
James 2:10
: "For whosoever shall keep the whole law, and yet offend in one point, he is guilty of all." Some of Shawn's details in this quote match descriptions he has given about real-life circumstances (like the use of alcohol and drugs). Other details seem hyperbolic (like sexual deviancy). Thus, it is difficult to separate his actual acts from rhetorical claims. Such a separation is also irrelevant to my review of his book, which is still available
here
.
Questions, comments, corrections, etc., are always welcome.
FOOTNOTES
[1]
Blair Dee Hodges, "
Stillborn: A Parody of Latter-day Saint Faith," A review of 'I Was a Born-Again Mormon: Moving Toward Christian Authenticity' by Shawn McCraney
,"
FARMS Review
21:2. I did not choose the title of the essay, I requested a different title. My unedited draft (though still using "addiction") was more clear: "He was feeling desperate and angry,
struggling with an addiction to prescription drugs and alcohol,
having difficulty keeping a steady job and sustaining his marriage. He had lost his faith in The Church of Jesus Christ of Latter-day Saints..." (BHodges, "
Shawn McCraney's 'I Was a Born-Again Mormon: Moving Toward Christian Authenticity
," LifeOnGoldPlates.com, 17 June 2009). Shawn responded to this early rough draft: "I actually like your style, Hodges. I find it pretty much on track to what I have tried to say and do. I am interested in your take as to 'my maze of contradictions relative to soteriology,' but . . . whatever. God bless and I too look forward to reading your next edition," (
ibid
.,
comment #3
, 7 July 2009).
[2]
Shawn McCraney on John Dehlin's
Mormon Stories episode #126
, apx. 12:10-12:50.
[3]
Hodges, "
Stillborn
,"
FARMS Review
21:2.
[4]
Shawn Aaron McCraney,
I Was a Born-Again Mormon: Moving Toward Christian Authenticity
, New York: Alathea Press, 2003, reprinted with modifications in April 2007, 87-89.
[5]
Shawn McCraney, "Heart of the Matter
,
"
episode #190
, 3 November 2009, apx. 8:48-11:05 minute mark.