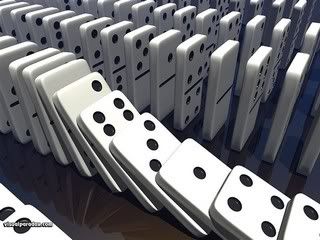 Causal determinism, loosely defined, is the view that every event (including human thinking, behavior, decision and action) is causally determined by an unbroken chain of prior occurrences.
1
Think of dominoes. In this view, we are utterly "acted upon" to use Lehi's phrase (see
2 Nephi 2:26
). If God knows every act you and I will ever commit, and He knows it infallibly, we are not actually able to make decisions; they are already determined. Buried in hundreds of comments after a post on
God's foreknowledge
at the
New Cool Thang
blog, LDS philosopher Blake Ostler outlined four reasons why he believes "determinism is a heinous view."
2
___________________________________________________
1. Determinism is inconsistent with our immediate experience of choosing among genuine options.
A decision implies that in deciding we are in fact choosing among genuinely open options. There are no genuine options if determinism is true — rather, we appear to be deciding what has already been decided long before we thought about it. So there are no decisions according to determinism, only the appearance of decisions.
2. Determinsim is incompatible with rational thought and deliberation.
Consider the argument showing that they are not compatible. Think about the nature of deliberation and rational thought. If I act based upon rational thought and deliberation, then I act because I recognize that the action is a rational conclusion of my thinking and deliberation. I act for the reasons that I have considered. However, if determinism is true then I never act based solely on the reasons I have considered.
Let us suppose that human thinking is determined in the sense that every thought or belief accepted by a person is a necessary result of the prior causal events whether internal or external to the person. Is it not evident that on such a view that rational thought is impossible? It cannot be true that anyone's thinking is guided by rational processes; rather, it is guided entirely by laws of cause and effect which proceed with no regard to whether the thought processes they generate correspond to the principles of sound reasoning. If I have a thought, it is not because it was a rational conclusion but because it was determined by prior causes. Thus, the thought I now have is the result of prior causes and I can never trace any act or thought to one that is not merely the result of prior causes, whether internal or external to me. If I have a thought and determinism is true, it is not because it is the result of rational process but because it is the upshot of the prior states of the universe. It follows that if determinism is true, no one ever thinks rationally but merely has thoughts caused by prior circumstances.
3. Determinism is incompatible with moral responsibility.
Suppose that a person,(I'll call him Rock), desires to steal a Mars bar from a 7-Eleven. Rock has these desires, he mistakenly thinks, because he likes Mars bars and doesn't like to part with his money. However, if determinism is true, then Rock's desire to steal is the causal result of his brain chemistry and environment, and these in turn are the result of antecedent causal events which can be traced back, ultimately, to causal events and circumstances over which Rock had no control, for they existed long before he was born. Is Rock morally responsible for stealing the Mars bar? How could he be? The act of stealing is fully explained by events over which he had no control. It follows that he had no control over whether he desired to steal the Mars bar. Rock is no more responsible for stealing than he would be for having a congenital birth defect.
4. Determinism is inconsistent with genuine relationship.
First, deterministic choices are not genuine. If I love you because of the way the world was the day before I was born, then I don't really love you, I merely act out the causes that make it inevitable that I will have the feelings that I do and love is reduced to mere feelings that are not really mine because I didn't choose them. Rather, if I "love" you in a deterministic world, you were chosen for me by causes outside of my control.
That is why determinism is a heinous view.
FOOTNOTES:
[1]
See "
Causal determinism
," Stanford Encyclopedia of Philosophy.
[2]
Blake Ostler,
comment 147
, April 5, 2005. Ostler explores philosophy and Mormonism in his 3-volume
Exploring Mormon Thought
.