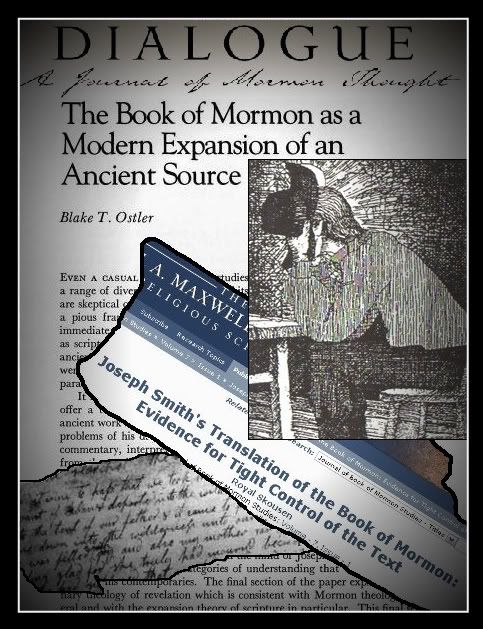 Likening With Care, Part 3
In 1987 LDS writer/philosopher Blake Ostler published an article in
Dialogue
called "The Book of Mormon as a Modern Expansion of an Ancient Source."
1
Ostler's theory essentially posited that Joseph Smith interacted with the Book of Mormon source material in a way that helped highlight pressing issues of his own day. Over time Ostler adjusted many of his findings, and almost two decades later on the Times & Seasons blog he posted:
It has now been 18 years since the expansion theory was first published and to date not a single critic of the Book of Mormon has attempted to explain the presence of convincing evidence of antiquity that I cited in my 1987 article: viz., ancient prophetic call forms, ancient Israelite covenant renewal rituals and forms and formal Hebrew legal procedures. In my view, the presence of these forms is fairly clear in the text of the BofM and they are very difficult to explain on the assumption that it was written by anyone in the 19th century. To date, the only theory that accounts for these ancient forms and the presence of modern expansions that are fairly evidence is the expansion theory.

I believe that the Book of Mormon is precisely what it claims to be: a book translated by the gift and power of God that tells us about the record of an ancient people. However, translation by the gift and power of God isn't translation based upon an isomorphic rendering of an underlying text into English based on a knowledge of the ancient textual language; rather, it is a revelation from God which involves necessarily the limitations of vocabulary, conceptuality and horizons of God's servant chosen to render it into English for us.2
Ostler's belief that Joseph Smith interacted with an actual historical record as he translated, that God inspired Joseph using the language with which he was familiar, is intended to account for (among other things) why the name "Jesus" or title "Christ" would appear in the Book of Mormon text long before "Jesus" appeared in the Greek speaking world where those forms of the name and title would begin. If the Book of Mormon is a translation, however, those exact words
didn't
appear in the Book of Mormon; they are the translated words of what was originally written there. Similarly, Book of Mormon writer Jacob's sign-off of "adieu," is French, leading some critics to wonder how such a word could appear in an ancient record. Ostler's theory would posit that the word
didn't
appear on the plates; it is a translation of a concept from the plates using vocabulary to which Joseph had access in his contemporary environment.
Book of Mormon scholar Brant Gardner believes the problem with Ostler's initial paper was that it seemed to give Joseph Smith
too
much modern input. Ostler wasn't
suggesting that the Book of Mormon wasn't ancient, but as Ostler noted in the above-quoted T&S post, some critics and others believed that was his argument by neglecting the rest of the paper's input.
Gardner's new
Second Witness
series seems to hew somewhere nearer to Ostler's loose translation theory than to Royal Skousen's belief of a tight translation process which left Joseph very little wiggle-room.
3
Gardner believes the process was more interactive; a view which is seen throughout the commentary. For example, instead of the name "Jesus" Gardner uses "Yahweh," which would have been in use at the time the Lehites left the Old World. Instead of "Christ," the Hebrew "Messiah" is used. This small decision is intended to set a unique tone throughout the commentary, keeping in the forefront the fact that readers are looking at the translation of an ancient source.
On Ostler's view, Gardner said:
[T]here is much about the way I see the translation process that is parallel to what Blake suggested. I think he is right, but perhaps only in slightly different ways and for different reasons. I am curious to see whether people notice how similar my ideas are to Blake's (or if the differences can be perceived). I am sure that there are many who won't like the idea that there is more humanity in the Book of Mormon than they have previously thought. As a miraculously translated text, we tend to want it to be miraculous. I happen to think that it is still a marvelous work even though God did that work through human instruments.4
Gardner, Ostler, Kevin Christensen and Kevin Barney among others have all posited something between a completely loose or completely tight translation.
5
Others, like Royal Skousen, view the translation as tight, where Joseph would have read the exact words and not played a very interactive role, which Barney calls the "teleprompter" theory.
6
Taken to the extreme, some might view Joseph Smith's interaction as completely controlling; in other words, that Joseph Smith was somehow inspired to write a "pious fiction," a useful, Christian book, but not actually based on historical events in any way. Shawn McCraney, a former member of the Church-turned Evangelical explained:
Latter-day Saints...must take the time to learn for themselves the enormous amount of material (literally and thematically) that the Book of Mormon borrows from the Bible, as well as the pressing nineteenth-century themes Joseph used as supportive subplots in the construction of his stories. By understanding the Book of Mormon in these terms - magical, familial, cultural, social, and theological - Latter-day Saints who really want to know the truth, no matter how painful it may be, will certainly be more apt to see the Book of Mormon for what it is - a nineteenth-century fictional work which testifies of Jesus Christ in a literary form.

7
Does Gardner think it is possible for a Latter-day Saint to believe in the book as inspired fiction?
I don't doubt that there will be some who find a way to believe in the Book of Mormon as inspired fiction. I sincerely doubt that the church will ever formally hold, encourage, or be passive toward that idea. The Book of Mormon stands as an evidence of Joseph's prophetic mission, and without a real connection to antiquity, it has no tie to the miraculous beyond simple hope. With a text that is ancient and appears only through Joseph, no matter how well he made his translation, it is that antiquity that cannot have anything but a miraculous explanation and therefore supports his other claims to divine communication.





That position differs dramatically from saying that the Book of Mormon is an ancient text that a human processed through the gift and power of God. While Joseph's humanity allows us to understand that it is unlikely to be the kind of word-for-word translation that we might expect of modern scholars, it is nevertheless inextricably tied to that ancient source text. Joseph may have interacted with the translation and certainly was the source of the KJV quotations and references, but the underlying antiquity of the text has no modern explanation.
More on Gardner's theory of Book of Mormon translation can be found in
volume one
of
Second Witness
, and throughout the whole
series
. For more with Gardner, see "Likening With Care"
part 1
and
part 2
.
__________________________________________________
FOOTNOTES
[1]
Blake Ostler, "
The Book of Mormon as a Modern Expansion of an Ancient Source
,"
Dialogue
20:1 (Spring 1987) 66-123.
[2]
Blake Ostler, "
Updating the Expansion Theory
," Times & Seasons blog, April 26, 2005 (accessed Sept. 10, 2008).
[3]
Royal Skousen, "
Joseph Smith's Translation of the Book of Mormon: Evidence for Tight Control of the Text
,"
Journal of Book of Mormon Studies 7:1 (1998).
[4]
Gardner's comments in this series are from personal e-mails in possession of the author unless otherwise noted.
[5]
See Kevin Christensen, "
Truth and Method: Reflections on Dan Vogel's Approach to the Book of Mormon
," FARMS Review, 16:1, 287-354; Kevin Barney, "
A More Responsible Critique
," FARMS Review, 15:1.
[6]
See, for example, Royal Skousen, "Joseph Smith's Translation of the Book of Mormon: Evidence for Tight Control of the Text,"
Journal of Book of Mormon Studies
7:1; Barney,
op cit
.
[7]
Shawn McCraney,
I Was a Born-Again Mormon
, 176-177, punctuation corrected. McCraney follows the writing of Dan Vogel, Brent Lee Metcalfe, H. Michael Marquardt, and others who have posited the Book of Mormon as a fiction.