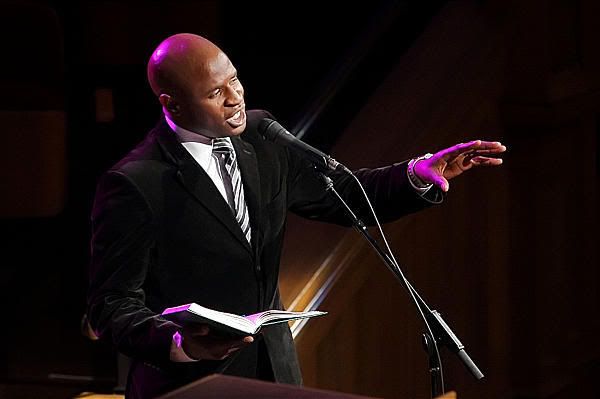 On June 8, 1978 the LDS Church released a statement declaring that the priesthood would be extended to all worthy males, which mostly indicated that blacks would finally receive the priesthood of God. I wanted to take a minute to diverge from my usual posts on the Journal of Discourses to give my impressions of the special commemoration held last night at the Tabernacle on Temple Square in Salt Lake City, Utah. I remain pretty unclear on why the ban on giving blacks the priesthood began, and I'm not sure when or how. I do know there were some early instances (at least one: Elijah Abel) of blacks receiving the priesthood. Elder Abel received the priesthood in 1836, and some sources show he received it directly from Joseph Smith.[1] Still, at some point between then and the 1850s a ban was enacted limiting the priesthood from blacks. I wasn't born when the ban was lifted, but I have spoken to many members who remember their reactions. The vast majority of the stories involve elation, tears, a feeling of "finally!" I read Eugene England's difficult essay "The Mormon Cross," written in response to a groundbreaking study by Lester Bush published in Dialogue in 1973 regarding England's struggle over the issue.[2] I've tried to imagine what it must have been like then for black members of the Church, I've thought long and hard about what I might have believed had I been alive to experience the Church before the revelation. I remain completely unconvinced that a true understanding is possible for me, a latecomer, but I have thought about some of my own post-revelation reflections. Growing up in Utah I didn't know many black people. I still recall elementary school lessons on Martin Luther King, Jr. Day when we would listen to excerpts of the I Have a Dream speech, and color pictures of the inspired leader. My little brother had a friend whose father was black and mother was white. One weekend my parents were away and my great-grandmother was watching my brothers, sisters and I. It was a Friday night and we were watching TGIF. When Hangin' With Mr. Cooper began after Family Matters my great grandmother remarked "what is this, the colored channel?" None of us said anything but I remember her words seemed very foreign to me, and stung. This was probably the first time I had seen in person the disconnect between her generations views on blacks and my own experiences. I had been raised to respect all colors, creeds, and people, but didn't have much opportunity to do so, given the minority's extra-minority status in my middle-class predominately white city. In High School I had one black acquaintance and knew other blacks (largely because my High School boundaries included Hill Air Force Base, I imagine), but still, it was far from being a diverse experience. I was aware of racism, but much more from classroom instruction than face-to-face experience. So that was it. I was mildly aware of racial tension in the US. I believed racism was outdated, declining, ignorant, and wrongheaded. I received my mission call to the Milwaukee, Wisconsin mission. My first area was Milwaukee. Downtown, inner city, we callously called it the ghetto area. The tables had been turned on the white boy from the west, I was the minority now. Explaining all my experiences isn't the purpose of this post, but suffice it to say I learned what it was like to climb onto a bus or walk into a church where I was one of two white people. I learned how it felt to be called cracker (rarely, mind you) or to be called a racist. I learned the unique way many blacks worshiped God, the love for Jesus they had, the emphasis on the "Word," the exciting and soulful music, and the style of many black preachers which contrasted sharply with the sermons I had encountered growing up. And I loved it. I loved it to the point where strange thoughts crossed my mind: What will they think of me? What is this "they" and "us" dichotomy, and why isn't it easier to forget about? Will my love or enthusiasm seem inauthentic in my interactions? Does my worrying about how it seems already make my interactions inauthentic or calculated, anyway? Will I make a dumb comment, embarrass myself or the Church, offend anyone? At any rate, I somehow came to grips with some of these thoughts and learned a little about how difficult life was in the inner city. That is a short explanation of my experience with a small part of black culture. But still, I believe it changed me. One way it changed me was I could no longer easily shuffle the questions on the Priesthood ban to the past, moving on without looking back. I still need faith in the gospel and in my leaders as inspired despite not knowing the how, where, why, etc. And that is one reason I went to the meeting last night. It was more than well worth it; it was absolutely inspiring. Even still, I have to suppress that familiar wondering: whether I belong there, why I feel drawn there, whether I seem like I am "trying" to be interested rather than actually being interested in points of view from black members of the Church. Or should the wondering be put to rest, content that change is occurring, more blacks are joining the Church, and many blacks have thought long and hard about the ban and have reconciled it with their faith. I don't know whether I need to explain, or whether I need to apologize, but I am so inspired by these faithful brothers and sisters, and so proud of their heritage, though I am so far from it. So that brings us back to last night. Seeing these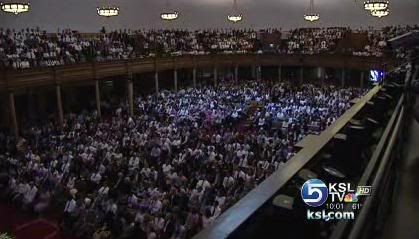 powerful, faithful, hopeful black members of the Church of Jesus Christ standing at the pulpit of the historic Tabernacle bearing testimonies of faith and love was completely beautiful to me. President Fred Antioni Parker of the Atlanta Georgia Stake gave a stirring testimony of his faith in Jesus Christ and the restored Church. He approached the question he had been asked countless times: "why?" His blunt response was that he simply doesn't know, but was quick to emphasize that he refused to allow something he didn't understand to interfere with the other things he knew in his heart:
"I don't feel it's necessary for me to understand all the Lord's dealings to believe that he is God and that he loves all his children ... I know that he can make us happy. We can't understand all his thoughts, and my faith isn't limited by things I don't understand.
Sister Catherine Stokes, former Assistant Deputy Director of the Illinois Office of Health Care Regulation, related the personal perspectives of several Latter-day Saints regarding the effect of the 1978 revelation on their lives, noting that it was difficult to track the statistical impact of the revelation. She emphasized the continuing need to reach out, to debunk any false notions regarding the origins of the ban, and quoted Bruce R. McConkie's stirring August 1978 address at BYU following the revelation.[3]

President Ahmad Corbitt of the Cherry Hill New Jersey Stake, explained how his patriarchal blessing, which promised he would teach the gospel to "his people," was fulfilled in unexpected ways, especially when he was called as a missionary to serve in Latin America. He felt the time to preach to "his people" His voice slightly shook as he explained that he realized that Latin Americans were his people. Later experiences led him to realize that people of many ethnicities are his people. He encouraged a growing oneness, one that, as Christ's prayer in John 17, transcends any race, color, or people, to encompass all of God's children. Elder Sheldon F. Child of the Seventy concluded the meeting relating some experiences he had living in West Africa for four years and also serving in New York in a diverse branch. This video was shown: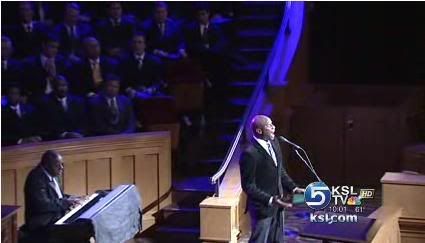 The multicultural choir sang a few numbers (though I regretted that no old spirituals were included,) but the highlight for me was Alex Boye, a tenor from the Mormon Tabernacle Choir, who sang solo renditions of "How Great Thou Art" and "I Know That My Redeemer Lives." All I can say is that his renditions were overflowing with soul, energy, feeling and emotion, and I felt the Spirit of God in the music.
Footnotes:

[1]

For more on Elijah Abel see the article on BlackLDS.org.

[2]

See Eugene England, "The Mormon Cross,"

Dialogues With Myself,

pp. 121-134, a response to Lester Bush's study, "Mormonism's Negro Doctrine: An Historical Overview," Dialogue, Spring 1973.

[3]

"Forget everything that I have said, or what President Brigham Young or President George Q. Cannon or whomsoever has said in days past that is contrary to the present revelation. We spoke with a limited understanding and without the light and knowledge that now has come into the world.
We get our truth and our light line upon line and precept upon precept. We have now had added a new flood of intelligence and light on this particular subject, and it erases all the darkness and all the views and all the thoughts of the past. They don't matter any more."
See Bruce R. McConkie, "All Are Alike Unto God," address given at the CES Religious Educators Symposium, 18 August 1978. Another write-up on the even can be read at

Juvenile Instructor.

Here's a cool timeline from the

Salt Lake Tribune

: