Orson Pratt
April 7, 1855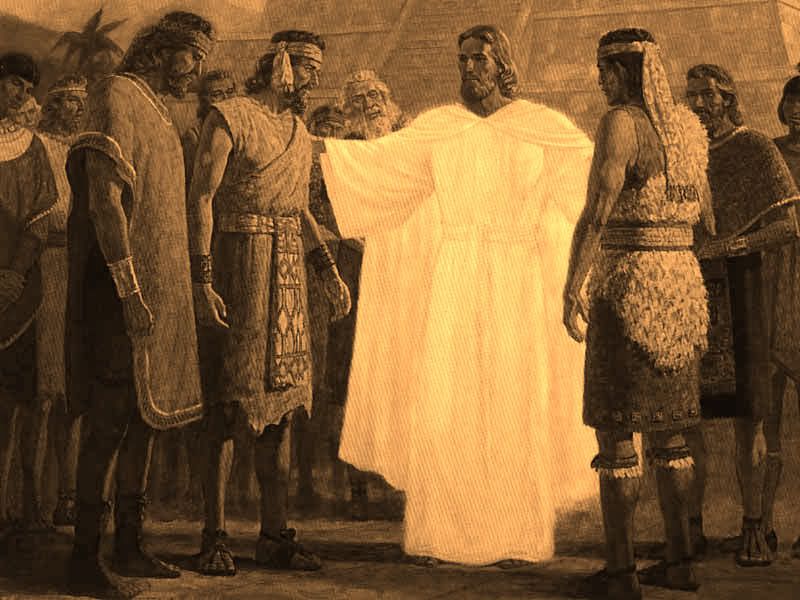 They are the stuff of Mormon legend: the three disciples of Christ who desired to tarry on earth until Christ comes again that they might teach the gospel; and they changed my tire last year, of course.

During his ministry to the American continent Christ selected 12 disciples to lead His sheep. Before He left them He granted their desires. Three had a peculiar request: they wanted to stick around. The Lord promised them they wouldn't suffer the pains of death or sorrow and they would have a "fulness of joy." They were caught up to heaven for a time where they saw and heard things unlawful to utter, and when they returned ministered to people-- including Mormon. They were told to minister to the scattered tribes, Jews, Gentiles; in short: all nations. and that Satan would have no power over them (see 3 Nephi 28).

Almost since the beginning of the restoration the three Nephite disciples have been the subject of much rumor, speculation, folklore, and apocryphal accounts. Perhaps something we've heard about them is based on fact. Either way, luckily, our salvation doesn't hinge on knowing much about the disciples, but they still make for good campfire stories.

In a sermon on the House of Israel, Orson Pratt speculated a little on what the three Nephites were up to:

Do you suppose that these three Nephites have any knowledge of what is going on in this land? They know all about it; they are filled with the spirit of prophecy. Why do they not come into our midst?
Because the time has not come. Why do they not lift up their voices in the midst of our congregations?
Because there is a work for us to do preparatory to their reception, and when that is accomplished, they will accomplish their work, unto whomsoever they desire to minister. If they shall pray to the Father, says the Book of Mormon, in the name of Jesus, they can show themselves unto whatsoever person or people they choose. The very reason they do not come amongst us is, because we have a work to do preparatory to their coming; and just as soon as that is accomplished they are on hand, and also many other good old worthy ancients that would rejoice our hearts could we behold their countenances, and hear them recite over the scenes they have passed through, and the history of past events, as well as prophecy of the events to come (JD 2:259).
President George Albert Smith once wrote Hector Lee, a folklorist who wanted to publish a book on the 3 Nephites:
Furthermore, so far as records of manifestations are concerned, the doctrine of the Church is that these are given for the up-building of the individuals to whom they come and that they are not for public display or public recording. They are regarded as sacred by those who have them, and while they may on occasion repeat them, generally speaking, I repeat, they are for the individual who receives them.1
Additionally, the current Book of Mormon Gospel Doctrine Teacher's Manual says:
Note: Stories often circulate about the three Nephites who were translated. Members of the Church should be careful about accepting or retelling these stories. You should not discuss them in class.

2

The old saying that God doesn't talk to loudmouths comes to mind. This brings to mind the care Joseph Smith took in relating the experiences he had with heavenly messengers. Sacred experiences should be kept sacred. This is one of the main reasons I always take a three Nephite story with a grain or two of salt. I believe they must be out there somewhere, but I don't know that they are going to take the time to change my tire ever again. Once was enough.
FOOTNOTES

[1]
Letter from President George Albert Smith to Hector Lee, 14 September 1945, in "The Three Nephites: The Substance and Significance of the Legend in Folklore," Ph.D. dissertation, University of New Mexico, 1949, appendix 1, letter no. 7, p. 219.
[2]
See Lesson 42: "This Is My Gospel",
Book of Mormon Gospel Doctrine Teacher's Manual
, (1999),185.